The desire for flower hair accessories is unbroken by brides, even after several years. As a professional bridal stylist I like to share my experience and give some tips.
In the first part, you can learn more about the basic considerations of how to use flowers as hair accessories on your wedding day and what you should be aware of. Back to part 1. In the following second part I go to the flower selection and other beautiful ideas. Find out more in the second part about the flower selection, the durability of the flowers and nice ideas as alternatives.
Overview
---
Flowers as hair accessory:
Part 1: applications & basic considerations
Part 2: Flower selection, stability & alternatives
---
What should you pay attention to when choosing flowers?
Nothing beats flowers! They are true masterpieces of nature and just beautiful to look at. But to get a complete bridal look you should choose the right flowers, because not all are recommended for use as hair accessory. Again and again it is underestimated what a lack of water, hot or cold temperatures and fixing in the hairstyle can do to the flowers.
Reality vs. wishing
Often, brides can be influenced by current trends and develop a certain styling desire. It's forgotten that the beautiful photos that are on display in large quantities on Pinterest, Instagram and the big wedding blogs, do not always correspond to the reality of a long wedding day. Mostly, the couple photos are taken directly or shortly after styling, when everything is fresh & amp; crisp. Not shown is how the accessories will look like later …
Don't get me wrong: I'm a big fan of flowers. However, I've already seen so much in my work, which was not optimal for the bride and I would like to support others with my experience. (back to part 1)
Tips for the bride:
---
When I'm booked for a bridal styling and the bride wants to wear flowers as a hair accessory, I insist that we can work with fresh flowers at the trial. Why? Unfortunately, many brides plan often to wear flowers that are not suitable for the desired purpose.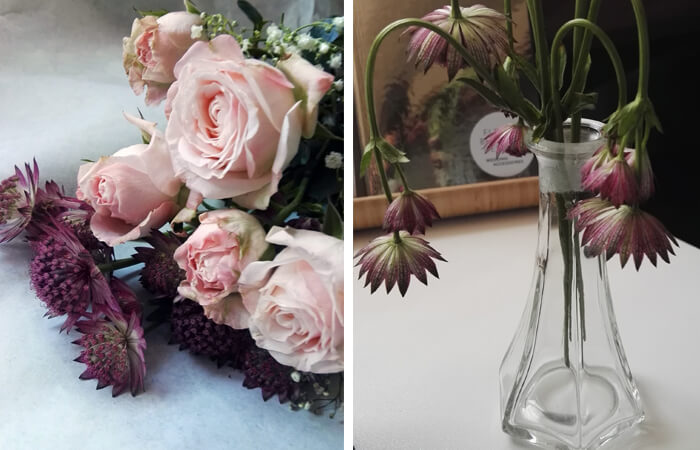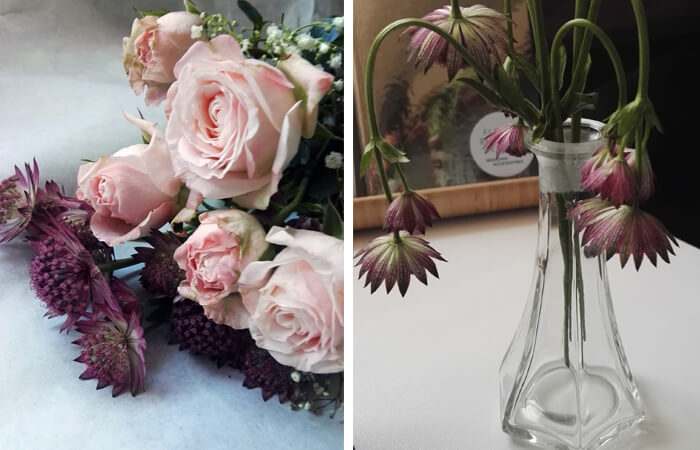 Lack of water
Once real flowers are cut off, the countdown begins. Without water this runs even faster. A quick withering is unfortunately often preprogrammed.
Many types of flowers are still pretty good in the vase, but at the latest when the flowers are in the hair, you can not provide them with water. Spraying water mist may be a refreshment for the flowers, but the hairstyle will suffery. Also, it's not possible to install a "small" water tank in the hairstyle. There will be space and it will be quite uncomfortable for the bride.
Hot or cold temperatures
Hot or cold temperatures increase the effects of water loss. On a hot summer day, the remaining water content evaporates in record time and can quickly become noticeable. But even icy temperatures make it difficult for the flowers and cause them to give up within a few minutes.
Secure pinning
Many flowers have a rather delicate nature and are quite vulnerable when it comes to placeing it in the hairstyle. The stems bend or even break off completely. Some petals fall off at the slightest touch and then leave an unwanted hole in the arrangement or flower wreath …
What do you have to consider in terms of fastening?
Loose flowers
Individual stems are inserted as deep as possible in the hairstyle. An additional secureing with hairpins is usually not possible at all. Another problem is that the stems must not be too short, otherwise there is no stability. On the other hand, if they are too long, they will make you look ugly in the hairstyle. Too large or too heavy flowers (such as roses) should also be treated with caution, as the flower head often has a tendency to tip over.
Flower arrangements
Flower arrangements attached on a hair comb can also flipp if it's to lare or to heavy. The upper part with the flowers can not be stabilized and if the hair comb has to long prongs, it's almost not possible to hide.
Flower wreaths
Too often, the wreaths are bound very lush and are therefore quite difficult for the bride and overlay the hairstyle. These, too, can not usually be fixed with additional hairpins – unless the florists think ahead and add eyelets or loops accordingly. These should not be too big, otherwise no firm hold is possible.
Considerations for the bride:
---
The only way to determine if your desired flowers are suitable as hair accessories,is to try them out before the wedding.
First of all, it's important to find out whether single or loose combined flowers, a flower wreath or floral arrangement can be combined with your bridal hairstyle and you like the result. Therefore, it is so important that your desired kind of flowers are included in the trial session..
On the other hand, it is also useful to determine how the flowers will behave without water. Will they survive a wedding day or hang the heads after a short time, close the flowers or maybe dry them up completely?
Recommended flowers
The selection of recommended flowers, which I have worked so far,
is actually relatively manageable:
Recommended are:
Baby's breath (pink or white)
Statice/ beach lilac (blue, lilac, yellow, pink or white)
Wax flowers (pink, rose, or white)
Small rosebuds
Tips for the bride:
---
What I like to recommend: to combine flowers with fresh green. This provides a nice contrast and in addition, the leaves usually last longer than the flowers. Beware of poisonous plants like ivy! Instead of green, herbs such as Rosemary can be used.
Recommended are:
box
eucalyptus
bilberry bush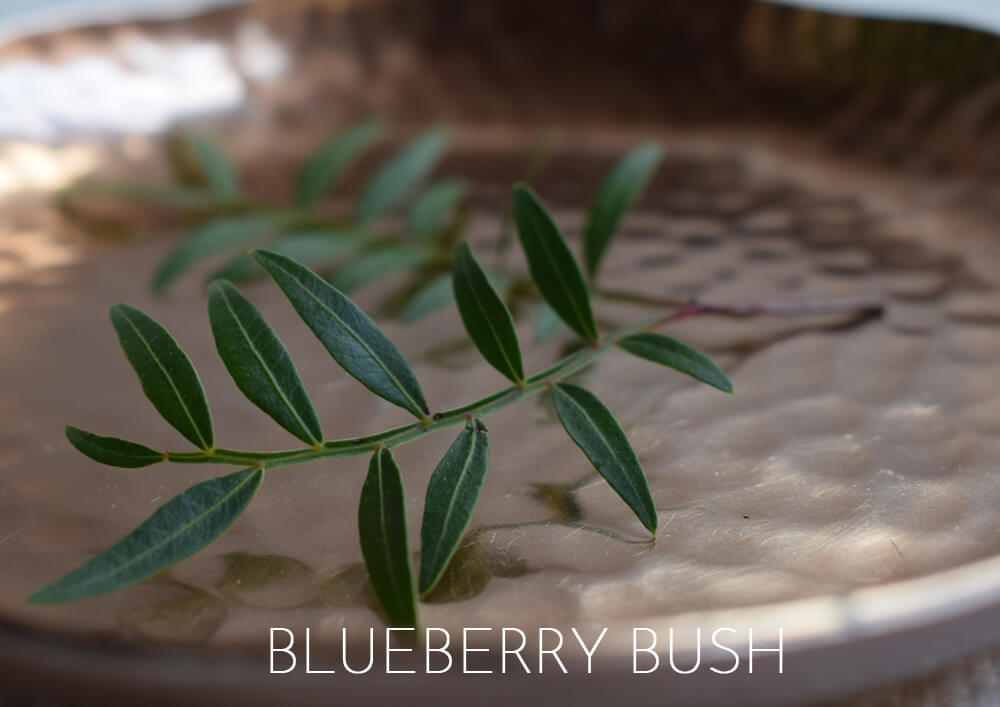 Real-life test: baby's breath & wax flowers
Here's a little comparison of what happens to baby's breath (white) and wax flowers (pink):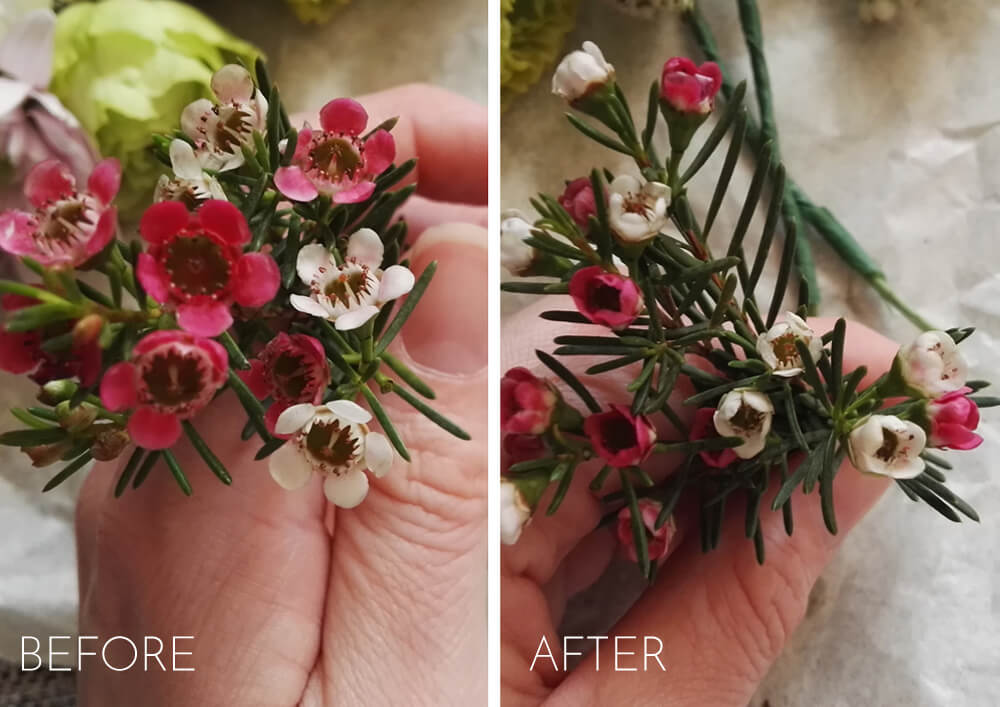 What should the bride think about?
---
When is the styling scheduled (in the morning, at lunchtime, in the afternoon or in the evening)
When is the ceremony planned?
And when is the couple shooting planned?
Would it be ok for you if the flowers only last half a day? Or would that bother you if the flowers go limp after a certain time and just don't look as fresh as shortly after styling?
Possible compromises and alternatives
If you have read everything up to this point ( back to part 1 ) there is a crucial question that you should ask yourself and answer honestly: are fresh flowers the right choice for you?
For whom the idea no longer feels right, or who finds it too complicated or too uncertain, you can of course also make compromises or alternatives.
FLEUR BLEUE DESIGN –
wedding hair accessories by Daniela M. Weise
As you may have seen, I am not only a bridal stylist, I also offer bridal hair accessories under my own jewelry label FLEUR BLEUE DESIGN an.
Last but not least, my described experiences as a bridal stylist motivated me in 2014 to design bridal hair jewelry myself, to manufacture it and to offer it to a larger audience. This gives me the unique opportunity to combine my knowledge as a stylist with my long-time hobby for pearls and with my recent passion for silk flowers. Read my whole story here.

I am happy to show you a few styling options here in the blog post. Just keep reading.
Are there alternatives? Yes, sure!
Maybe you're someone who flowers & amp; Loves flowers and would like to use them for your bridal look. But you don't feel like the challenges mentioned above are worth it and prefer to be able to rely on your hair accessories? Then a hair accessory made of pearls and / or silk fabrics might be a suitable alternative for you. If you like it more lifelike, you can use artificial flowers e.g. made of silk take a closer look.
Tips for the bride:
---
Hair accessories such as hairpins, hair combs or hair bands can usually be wonderfully combined with fresh green or flowers.
Combine flowers and / or green with hair accessories
Styling examples: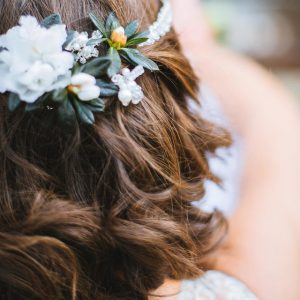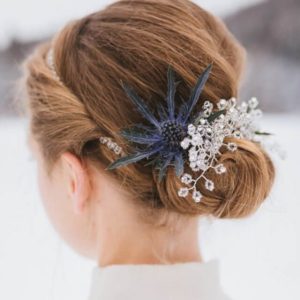 Alternative for loose flowers >
hairpins & hair clips
Personally, I'm a big fan of wire-based hairpins. They are easy to insert and can usually be integrated invisibly into the hairstyle. Due to the flexible base, the shape can still be slightly adjusted and used optimally in the hairstyle.
Styling examples:

Alternative for floral arrangement > Headpieces
Headpieces can be offered in very different designs. Hair combs or hairpin sets are common, on which an arrangement of individual elements is attached. The advantage is obvious: you don't have to place individual parts in the hairstyle but only one or a few.
Styling examples:
Alternative for floral wreaths > hairbands & hair vines
If you think the idea of ​​a flower wreath is beautiful, but too massive or perhaps too unstable, wire hair bands or hair wreath may be an option. These are available in a variety of designs and are available from discreet to opulent.
Styling examples:
Tips for the bride:
---
A wedding day is usually long – so I generally recommend the lightest possible hair jewelry.
There is now an incredible variety of wedding hair accessories, so there should really be something suitable for every taste and wedding style. Whether this is fresh flowers, silk blossoms or one of the combinations shown above is entirely up to your personal taste.
I hope that I was able to help with the detailed information, tips and the numerous food for thought about flowers and bridal hair accessories. If you know someone who might be interested in it, please forward the links.
Here it goes back to part 1. Learn how to use flowers as hair accessories and what you should consider.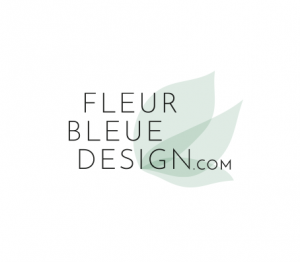 – – – – – – – – – – – – – – – – – – – – – – – – –
Information about the shown bridal hair jewelry by FLEUR BLEUE DESIGN
Styling (1) photo: Ulrike Schwille | bridal styling: Daniela M. Weise | bride: Elisa | ELDOIE DELUXE bridal hairband + hair pins
Styling (2) photo: Ulrike Schwille | bridal styling: Daniela M. Weise | bride: Lisa | ELODIE DELUXE bridal hairband + NADINE
Styling (3): photo: Marie Hornbergs | bridal styling: Daniela M. Weise | bride: Alexandra K. | ELZA
Styling (4): photo: Alexandra Kasper | bridal styling: Daniela M. Weise | bride: Amelie | FLEUR
Styling (5): photo: Diana de Morales | bridal styling: Daniela M. Weise | bride: Marianne | CHRISTINE Set
Styling (6): photo: Sülo | bridal styling: Daniela M. Weise | bride: Nicole | NADINE
Styling (7): photo: Jung und Wild design | bridal styling: Daniela M. Weise | bride: Katrin | JOSEPHINE
Styling (8): photo: Anna Mardo | bridal styling: Belinda Hitzschke | ELZA
Styling (9): photo: Alexandra Kasper | bridal styling: Daniela M. Weise | bride: Amelie | FLEUR
Styling (10) photo: Ulrike Schwille | bridal styling: Daniela M. Weise | bride: Elisa | ELDOIE DELUXE bridal hairband
Styling (11): photo: Sindia Boldt | bridal styling: Daniela M. Weise | bride: Juliane | SUSANN
Styling (12): photo: Kathleen John | bridal styling: Daniela M. Weise | bride: Caro | GISELLE
– – – – – – – – – – – – – – – – – – – – – – – – –