HOME | ABOUT ME | BRIDAL STYLING | BRIDAL HAIR JEWELRY | SHOP | TIPS | CONTACT
FLEUR BLEUE DESIGN – bridal hair jewelry by Daniela M. Weise
---
Discover FLEUR BLEUE DESIGN
All of my accessories are available in my online shop at fleurbleuedesign.com.
You can find a large selection on – Etsy – the international marketplace.
Also feel free to visit me on Instagram!
Dear bride,
are you still looking for bridal hair jewelry that is romantic & feminine?
During my work as a bridal stylist I created FLEUR BLEUE DESIGN, my label for handmade feminine bridal jewelry.
My focus is on hair accessories like hairpins, hair combs & headpieces; complemented by earrings and bracelets.
I personally design all jewelry pieces and make them myself by hand with great attention to detail. Each pieces is unique – just like you.
Bestseller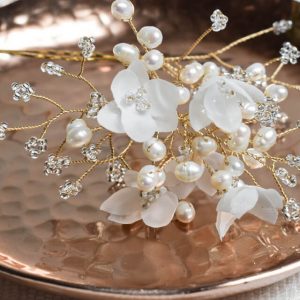 JOSEPHINE
Light and airy silk flowers combined with real pearls and glass beads. Available in gold or silver.
I show you different styling ideas on my blog.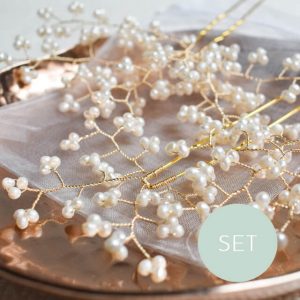 CHRISTINE
Pure freshwater pearls complemented with gold or silver. Available individually or as a set.
In Tina's bridal styling you can see the big hairpin.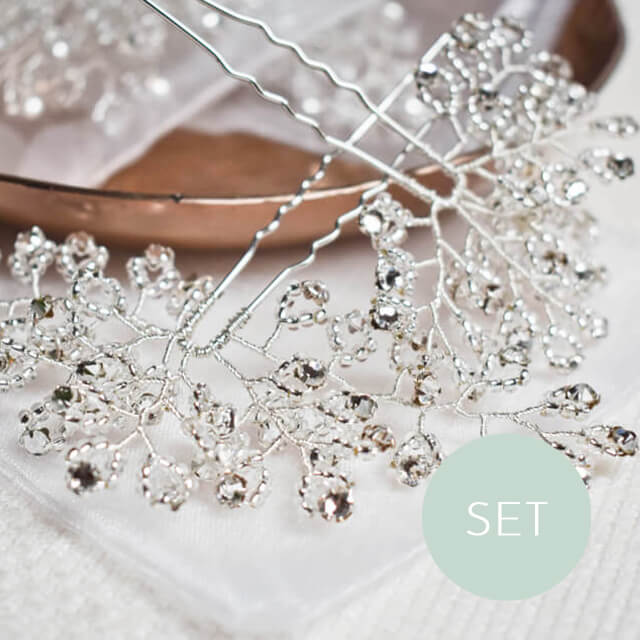 NADINE
Rhinestones are surrounded by glass beads. Crystal and ice are a perfect match for this 2-pieces set.
Get Katha's bridal styling for inspiration.
FLEUR BLEUE DESIGN bridal hair accessories
from Daniela M. Weise
The short story
With over 150 bridal stylings, I can look back on many beautiful moments. But unfortunately, the hair accessories brought by the bride couldn't convince me as a hairstylist in the most cases.
Many were difficult or almost impossible to
attach, too heavy, poorly made, cheap material was used, totally overloaded in the hairstyle to name just a few points …
Fortunately, I can use my long passion for
creative work with beads and combine it with my professional experience as a bridal stylist. So I quickly realized that I would like to offer my own hair accessories.
By hand I create bridal hair accessories from noble or modern materials – with pleasure also with handmade silk flowers.
I love to create suitable bridal hair accessories for romantic, playful or classic-elegant bridal hairstyles.
A fine detail and often the final touch for your personal dream styling and a very special souvenir that remains.
FLEUR BLEUE DESIGN has its own website,
which you can find at fleurbleuedesign.com.
There you can discover the latest jewelry pieces and
be inspired from styling examples & tips.
Veil & hair accessories
According to my philosophy, the used hair accessories should be a detail or highlight in the bridal hairstyle, without overlaying the hairstyle and complete the styling of the bride.
To me it is not "hair accessories or veil", because in my experience, usually both can be very nicely combined with each other or used one after the other.
Which variant is the right one for you, you may find in my styling examples.
Real bridal styling with bridal hair accessories
from FLEUR BLEUE DESIGN in use
Floral bridal hair jewelry
In many of my jewelry pieces I use
flowers or floral elements. They are not only pretty, but also an alternative to real flowers as hair ornaments. Why?
Fresh flowers are popular as hair accessories, but my experience has shown that they are often not the best choice. The selection of suitable varieties is also manageable.
If you're interested in the topic, feel free to read my blogpostspeppered with tips!
Highlights
ARIELLE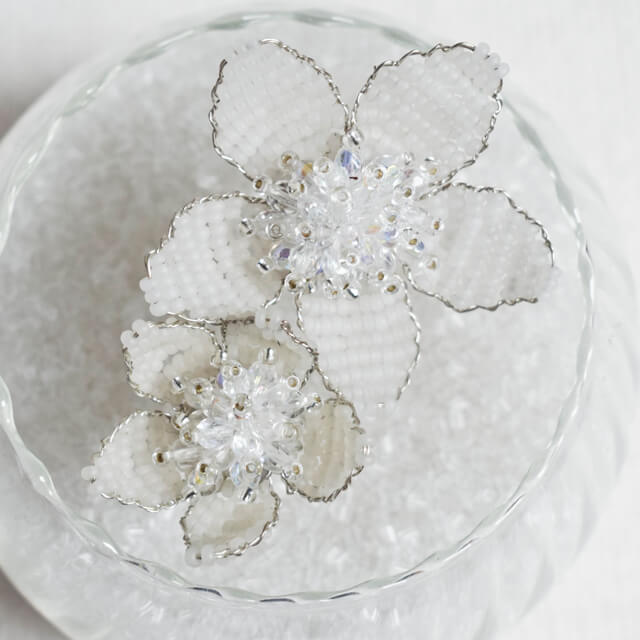 FLEUR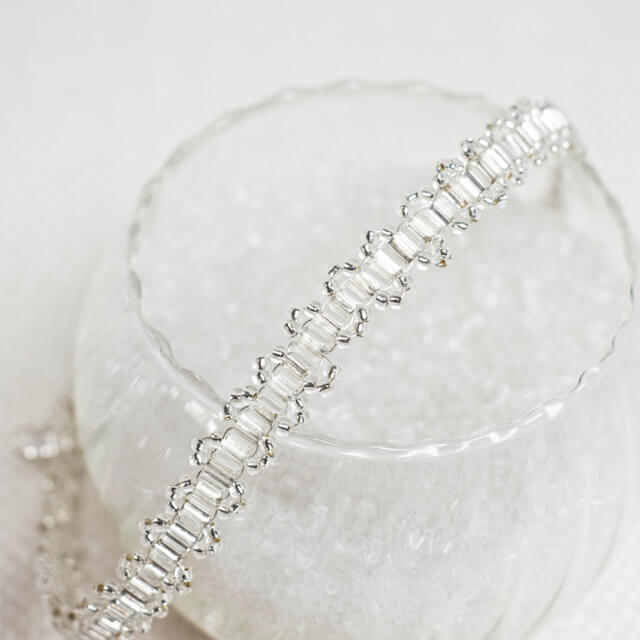 ELODIE DELUXE
Daniela M. Weise bridal styling Munich, bridal styling Munich, bridal jewelry Daniela M. Weise, jewelry Daniela M. Weise, FLEUR BLEUE DESIGN by Daniela M. Weise, bridal jewelry Munich, bridal hair jewelry Munich, wedding hair accessories Munich, Braut Haarschmuck München, Hochzeit Haarschmuck München, Seidenblumen Accessoires, Seidenblumen Braut Haarschmuck, Seidenblumen Hochzeit Haarschmuck