---
---
Dear bride,
are you planing your wedding in Munich
and searching for a professional bridal stylist?
I would be pleased to stand by your side and transform you into a radiant bride.
My specialties are natural (but still expressive) & romantic bridal stylings.
With my mobil equipment I will travel to your home or directly to the hotel.
I'm working exclusively with professional products that are containing harmless ingredients.

Let us work together and creat your personal dream styling!
Veil or hair jewelry?
Many brides are faced with the question of whether they prefer to wear a veil or hair ornament at their wedding. Why decide for one,
if often both can be combined or successively used?
Daniela M. Weise on Instagram
Exampels for bridal stylings
More pictures can be found in the gallery of brides.
You do not have a real idea of ​​your desire style?
No problem!
Then just let yourself be inspired by my
-boards.
---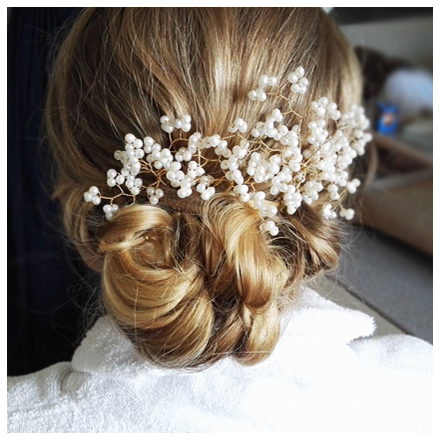 "Hi Dani.
Thank you so much for making me look gorgeous
for my special day and doing such
a wonderful job with the bridesmaids."
Marianne 2017
---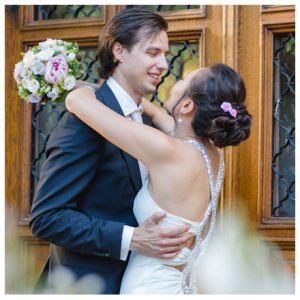 "Dear Dani,
thank you so much for making me look amazing on my wedding day –
literally couldn't have done it without you!
You were so much fun to work with,
and your make up & hair advice was fantastic.
It was wonderful to have met you,
and if I ever need someone to do my hair and make up again,
then you will definitely be seeing me again!"
Karina 2016
---
More bridal feedback is available here in german.
Prices for bridal stylings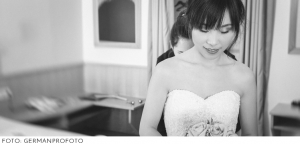 Bridal Styling

trial session
(2,5-3 hours)
bridal styling on the wedding day
(1,5-2 hours)

false lashes are included

375€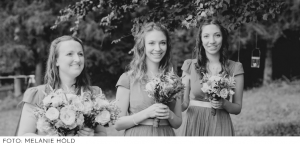 Wedding guests

single styling 60€
(30 Minuten)

complete styling 110€
(45-60 minutes)

Individual Package

You want me to assist you with the couple shooting,
so I can look after the important details (is the hair right, is the dress draped nice, etc.)?

You want me to stay after during the wedding party, so I can touch up or change your styling?

On request


Private Lesson on Bridal Make Up

You are planning to do your own make up on your wedding day
and you want to learn how to do the perfect bridal make up?

As working for Bobbi Brown I was teaching daily how to apply make up.
I'm happy to share with you techniques and the most suitable products for a longlasting make up.

If desired I can show you the easiest way on how to apply false lashes.

On request



Bridal styling for pre-wedding or
after-wedding shooting


Do you want to look amazing on your wedding pictures?

With special products I will create your desired styling and assist during the shooting to ensure that everything fits perfectly.

On Request


Dates and prices by agreement.  All prices are incl. tax & material.
The travel inside of Munich (MVV rings 1-5) is included.

Make Up & Hairstyling for wedding Munich, bridal styling Munich, wedding styling Munich, bridal make up Munich, wedding updo Munich, bridesmaids styling Munich, wedding hair, bridal hair, bridesmaids hair
Bridal jewelry & wedding accessories

Looking for bridal hair accessories?

You might consider wedding hair jewelry of FLEUR BLEUE DESIGN

All pieces are designed and handcrafted by me.

I'm happy to advise you to my jewels and
I'm also open for costum orders (costumizing the accessories to your needs).

Just write me a message and we will discuss what is possible.
Sneak a peek on the collection
wedding hair accessories | bridal accessories | wedding headpieces for bride hair headpiece crystal | crystal hair headpiece | boho wedding | vintage wedding | hair accessories boho | bridal hair jewelry | hair jewelry bridal | woman hair gift | beaded flower | flower jewelry | flower for hair | flower hair pins | bridal flowers | hair flower | flower hair comb | floral jewelry | silk flowers | wedding flowers | wedding flower hair | wedding flower hair piece | bridal flower hair piece | bridesmaid hair accesssory | bridesmaids jewelry sets | bridesmaid gift | bridesmaid gift sets
As seen on





FLEUR BLEUE DESIGN on Instagram